Ethereum Name Service (ENS) was launched on May 4th, 2017. (May the Forth be with you.)
The ENS protocol was created by Nick Johnson, with the help of a $1M grant approved by the Ethereum Foundation, and Vitalik Buterin, co-founder of Ethereum.
What is Ethereum
Ethereum is a decentralized global software designed to be scalable, secure and known for its cryptocurrency Ether or ETH, and the use of decentralized smart contracts. ENS is a public good that belongs to the community.
ENS names are permissionless smart contracts on the Ethereum Blockchain for all to utilize, but ENS is managed with the ENS DAO and the $ENS governance token.
Hey! The ENS governance token allows you to fully take part in the ENS DAO. It grants you voting power over decisions being made by the ENS DAO.

These votes can directly affect the ENS protocol and community, which is the foundational layer of your decentralized identity. 🚀

— coltron.eth | 🦇🔊 (@Coltron_eth) March 11, 2022
What is Ethereum Name Service (ENS)
ENS is a decentralized naming system on the Ethereum blockchain, but what exactly does this mean?
According to the Merriam-Webster's dictionary Decentralization is defined as, "the dispersion or distribution of functions and powers."
ENS is operated by the ENS DAO which is a decentralized autonomous organization, an organization that does not operate with centralized leadership but is governed by the holders of the ENS token. Although ENS is a decentralized entity they do have a core team at True Names LTD, a non-profit company based in Singapore who are supporters and help in leading the normalization and advancement of the ENS protocol.
ENS is a protocol that allows for many use-cases, but let's start with a broad list of the few utilities, and I will then break them down and go a bit more into detail:
Human Readable Wallets
Create a Decentralized Website
Unlimited Subdomains
Showcase Your NFTS
SIWE – Sign-In With Ethereum
Personal Web3 Identity
Bank Account
Branding
Flex
Integrate Web2
1. Human Readable Wallet
ENS works to translate and name crypto wallets, instead of using a crypto wallets long string of random words and letters. To transfer any token or digital asset, it can be translated to a human-readable name such as 'nick.eth', which ultimately names the crypto wallet. We are currently able to transfer funds efficiently using a barcode, but in the case that one cannot be physically present or the camera on a phone doesn't work, then funds could be sent via "ENS Name". The ENS name essentially makes sending and receiving crypto much easier, with less errors.
2. Create a Decentralized Website
IPFS, also known as Inter Planetary File System, is a distributed way of storing and accessing files and data that uses cryptographic hashes that can be stored on a blockchain to gather information based on its content instead of its location. IPFS combined with ENS allows for decentralized websites.
Creating a decentralized website is as simple as 4 easy steps.
Own an ENS name
Upload your files on IPFS,
Link your ENS to your website
Redirect an ENS name to the website you want
ENS names can also be used for TOR-browser websites, too.
3. Unlimited Subdomains
ENS subdomains are extensions to the second-level/parent domain, so if I am the owner of 'amazon.eth', then I can build-off the name and add subdomains, such as 'service1.amazon.eth', 'service2.amazon.eth', etc. We can compare it to a perfect filing system. We can essentially categorize "wallets, smart contracts, assets, services, products, or anything" with unlimited ENS subdomain-names, and with no renewal fees. Subdomains also offers the benefit of allowing programmable permissions and you can monetize them! The possibilities are infinite with additional development.
4. Showcase Your NFTS
ENS has a feature allowing you to set up an avatar record to your ENS profile, it adds a visual to your name and allows you to further personalize your name. There is also a tool eth.photos that allows ENS users to visualize their NFTs simply by entering your ".eth" name without the need of connecting your wallet allowing you to showcase your NFTS.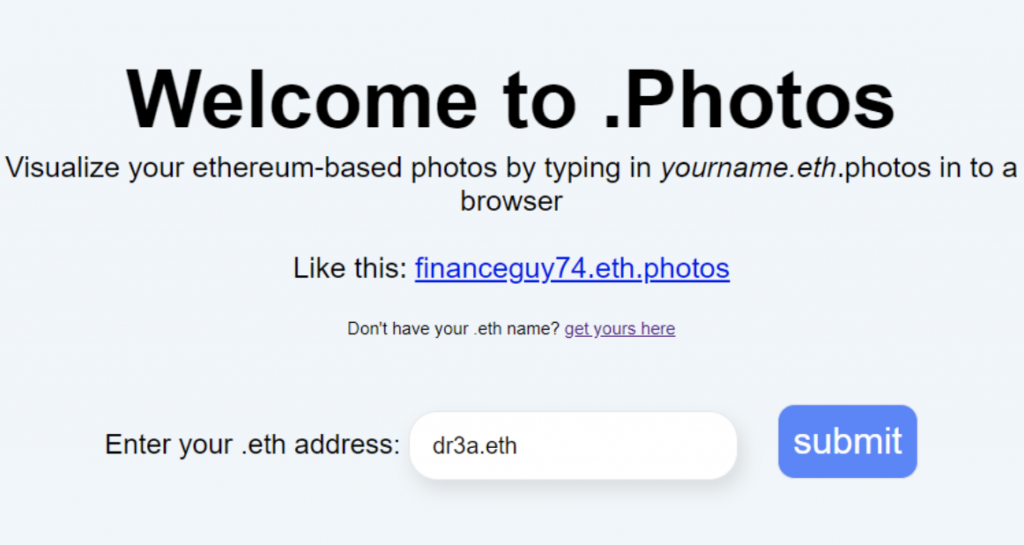 5. Sign-in with Ethereum/SIWE
Sign-In With Ethereum (SIWE) is a standard way to allow Ethereum wallets to authenticate with websites and app. It was built by the community via the ENS DAO and could potentially be the game-changer in ENS, Web3, and Ethereum adoption. It can ultimately lead to a "sign-in standard" for all users (EIP-4361), and eliminating the need to have various usernames/ passwords across different platforms. When SIWE gets implemented owning your ENS name will mean that you own your web3 identity across various platforms.
You can learn more about SIWE via https://Login.xyz
6. Personal Web3 Identity
ENS is your Web3 digital identity, your ENS is your Web3 username, and your ENS is used as "your profile information", which Ethereum systems use to understand your identity, digitally across Web3. ENS will be what ties your digital identity to you, but in an open and decentralized protocol; controlled by $ENS token holders and constituents. We have started seeing this happening with the metaverse app Worldwide Webb, see below how ENS names are being used to represent avatars in the game.
7. Bank Account/Wallet Names
An ENS-names plus a Web3-wallet can be looked at as a bank account, without the need for an intermediary of the bank. It can be an account where funds get deposited/withdrawn. By using 'bank account.eth', or any ENS name of your choice, you can get direct deposits from employers or other institutions. Each bank account (crypto wallet) can have its own ENS account name, with individual second-level ENS names, or via subdomains.
8. Personal & Business Branding
With a market cap of $187 billion and founded in December 2013 Ethereum can be looked at as a trusted and premium cryptocurrency. With that said, ENS is their naming system and individuals/ companies can be looked at as trendy or pioneers in web3 if they are owners of theirs. eth domains. There are a few prominent companies and celebrities that already own their ENS names such as Gucci, Pump, Budweiser, Paris Hilton, Jimmy Fallon, and many others.
9. Brand Flexing on Web3
ENS names cannot be duplicated, and they are all 1/1 pieces. Owning a high-quality name that captures attention can be a way of showing off due to their scarcity. ENS can be looked at as the real digital identity in the sense that unlike virtual metaverse land, an ENS name cannot be replicated, so it is a "flex" to own your short or unique brand ENS name.
To see the biggest Twitter brands and personalities with ".eth" in their Twitter-names, then be sure to check-out "ethleaderboard.xyz", at: https://ethleaderboard.xyz/
AHopkins.eth entered the top 200 most followed Twitter accounts with a @ensdomains name at number 25!

Welcome @AnthonyHopkins 🎉

— eth-leaderboard.eth (@ethleaderboard) June 8, 2022
10. Integrate Web2
A very underutilized ENS utility would be the fact that ICANN DNS names (like .com, net, .cash, .io, .xyz domains) can be imported as ENS names (not as ".eth" names), but they are still centralized domains. The security of a DNS, imported to ENS, will depend on the DNS name (admin passwords with employees, GoDaddy servser, etc), but this function allows for "crypto, tokens, NFTs" to be sent to the imported ICANN DNS-name, using the ENS protocol and Web3-Blockchain technology.
For true decentralization, users will have to ultimately get their .eth-ENS name, but this utility can lead to curiosity about the benefits of a decentralized Web3 domain system, and also help onboard Web2-natives organizations into Web3.
Though there are other naming systems with less users and integration usage, ENS has been leading the way with over 2.3 million names registered, over 550 thousand participants, and many Web2 mainstream companies purchasing their .eth-ENS names, creating foundations for Web2 and Web3 brands.
For now, ENS is leading the way as the most scalable and successful Blockchain name for all Web3 sites and services.